New 'Toy Story 4' Clip Shows Flashback With Bo Peep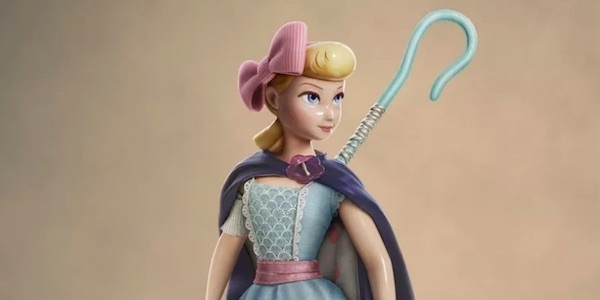 The newest look at Toy Story 4 has revealed a scene with Bo Peep set long before Andy grew up, with Woody's love interest wearing her original design from the first two films instead of her new look (pictured above).
In a scene set after the events of Toy Story 2 (but long before the main story of the film), Bo Peep calls upon the assistance of Woody, Buzz, Jessie, Slinky, multiple Barbies, her sheep Billy, Goat, and Gruff, and an unidentified doll character. She decides to initiate the rescue mission "Operation Pull Toy" to save RC when the remote-control toy car is stranded outside in the gutter in front of Andy's yard during a particularly violent storm. The clip has been screened on Good Morning America, and can be viewed below:
We're giving you an EXCLUSIVE look at the newest @toystory movie! So excited to go to infinity and beyond! #ToyStory4 pic.twitter.com/lA2GEgc21y

— Good Morning America (@GMA) February 15, 2019
While Bo Peep is said to be a major player in the story of Toy Story 4, the marketing so far has focused on new characters like Forky, Bunny, and Ducky. Since the movie has been described as a love story between Woody and Bo Peep, it stands to reason that she'll play a bigger role in the film's ad campaign going forward, especially since she hasn't had a prominent role in the franchise in twenty years (yes, you read that right – it's been that long a wait between the second and fourth Toy Story films).
Aside from a brief non-speaking cameo in Toy Story 3, Bo Peep has been missing for quite a long time, and her return is something that's bound to tug at the heartstrings of fans who have missed her absence. Considering that she wasn't given a whole lot to do in the previous films, her arrival and sudden prominence in the story is something that's a welcome change of pace. One can only hope that we find out what happened to the other toys that sat out Toy Story 3 in this new film.
Toy Story 4 will open on June 21, 2019.

Grant Davis is a freelance writer who has covered entertainment news for more than four years. His articles have frequently appeared in Star Wars News Net as well as as other entertainment-related websites. As someone who grew up on Star Wars and comic book movies, he's completely thrilled with the current era of genre entertainment.