After teasing some details during the Gotham panel last week, executive producers Danny Cannon and Bruno Heller took to the stage during Epix's Television Critics Association panel to reveal more details on Pennyworth and a first look at Jack Bannon in the title role.
The biggest announcement from the panel is that we now have a release date. According to Deadline, the series will premiere on Epix in June. Set during the 1960s, the story will follow Bannon's Alfred, pictured below in the first image from the series, as he returns to London following a tour in the SAS. Described by Bannon as "younger and full of optimism," Alfred will be working as a bouncer when a chance encounter with a young Thomas Wayne leads him down a different path.
"This is the origin story or the Pennyworth character," Heller told reporters. "How did he go from being an SAS soldier to be being a butler in America? This gave us a chance to build a world around him, a world in England that fits the whole DC Universe."
Whilst Gotham exists in the same part retro/part modern time that Batman: The Animated Series created so successfully, Pennyworth is set clearly in sixties London. "We're both British, we're both from London, and I don't think there's a better period in England than the early '60s," Cannon told the press when discussing the series' setting. "It's after the war, when things changed for good. You could see the change in the air, things were happening culturally and artistically. It was an inspiring time in England." The setting gave the creative team an instantly recognizable starting point, which they were then able to adapt, "making it 13 degrees darker", to fit the DC Universe and the story they wanted to tell.
As well as Alfred, we also learned a few more details regarding Ben Aldridge's Thomas Wayne and Paloma Faith's Bet Sykes. "There's more to Thomas than meets the eye," Aldridge shared, "He appears to be a fish out of water, and is very much a mystery I think, both to Alfred and to the audience, but as the series progresses I think we're gonna get to learn a lot more about him." As for Faith's villain, "It's more about what she doesn't say that what she does say," the actress told reporters. "She has a very restrained by secret penchant for violence."
Pennyworth will premiere on Epix in June.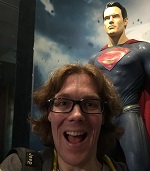 Chris is a lifelong fan of Disney, Star Wars and super heroes who can't quite believe this golden age of movies and TV we're living in. Having written blogs dedicated to Disney's Aladdin musical and Star Wars Celebration, Chris is excited to be part of the MNN team.