'Aladdin' TV Spot Reveals First Look at Genie

While Entertainment Weekly's preview of the live-action Aladdin remake showed off Will Smith at the Genie in his human disguise (pictured above, right), the original, blue form of Genie (pictured above, left) has yet to be revealed… Until now. A new TV spot ends with our first look at the Hollywood star turning into a blue, semi-digital magical being as he emerges from the lamp.
This new clip of Aladdin was shown at the Grammy Awards earlier tonight. Aside from the Genie reveal, there's an abundance of new footage after a Aladdin enters the cave of wonders, showcasing Agrabah, Jasmine, and part of the "Prince Ali" sequence. You can see it below:
"Your life begins now… Aladdin". Watch this special look at Disney's #Aladdin, in theaters May 24. pic.twitter.com/6kgsmxUtam

— Disney's Aladdin (@disneyaladdin) February 11, 2019
So far, I've been seeing some… mixed reactions to Genie's appearance here, but I just don't get where they're coming from. It looks like a big, blue version of Will Smith. Really, what did they expect? At least he looks better in an image with finished CGI, which Disney released shortly after the trailer dropped.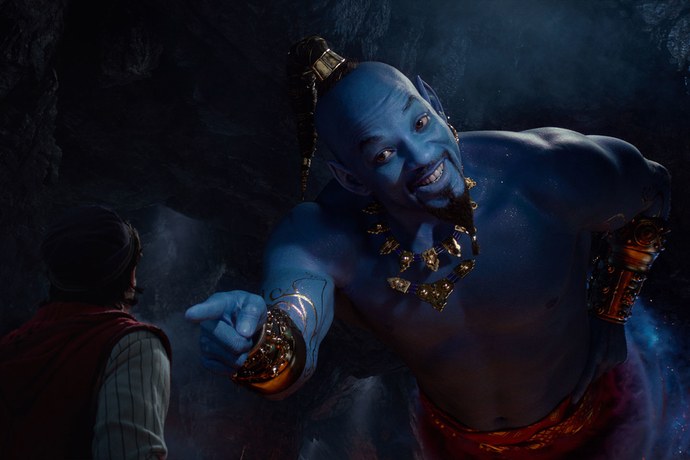 Beyond that, I have to say that I really like the set design and costuming for all of this. Even though I don't feel that Disney needs to keep doing live-action remakes of their best movies to be successful, it seems like they're definitely putting the effort into bringing these worlds back to life as opposed to simply cashing in on existing IP.
Aladdin opens May 24th 2019.

Grant Davis is a freelance writer who has covered entertainment news for more than seven years. His articles have frequently appeared in Star Wars News Net as well as as other entertainment-related websites. As someone who grew up on Star Wars and comic book movies, he's completely thrilled with the current era of genre entertainment.