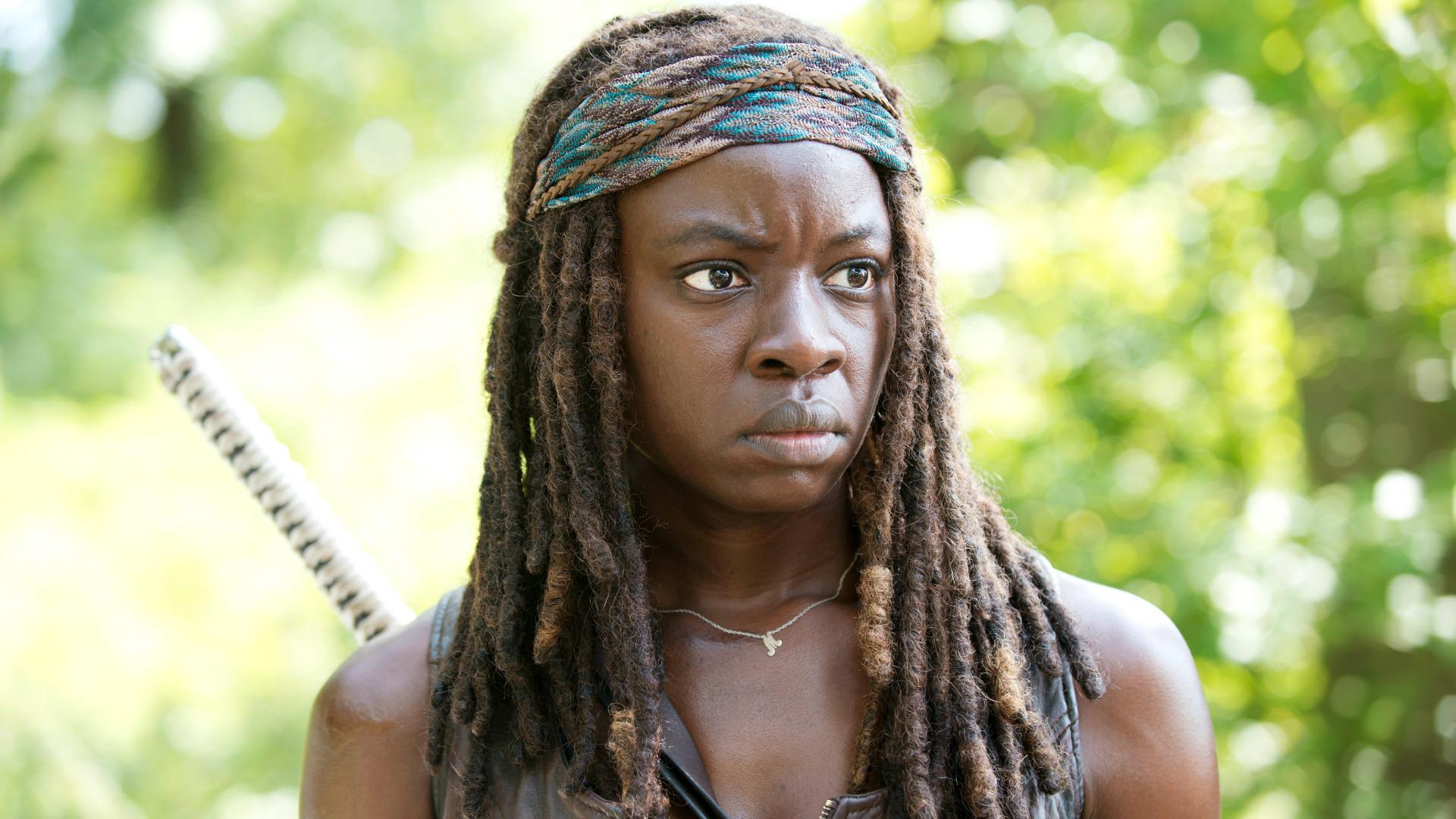 Michonne (Danai Gurira) will be leaving The Walking Dead next year, in yet another blow to the long-running zombie show.
It's only been a few months since Andrew Lincoln (Rick Grimes) departed the series, and now The Walking Dead is set to lose another of its lead characters. Danai Gurira will leave the show in Season 10, appearing sporadically in a handful of episodes that will be stretched throughout the season, after signing a new deal with AMC.
The Hollywood Reporter expects Gurira to return in The Walking Dead movies instead, much like Andrew Lincoln. Both characters still play a big role in the source material, and the show decided to make them a romantic couple. It does seem hard to believe AMC would agree on a new deal with Gurira without getting her to commit to at least one of those films.
It was inevitable that Gurira would leave. While The Walking Dead allowed the actress to break through to mainstream audiences, her role in Black Panther and Avengers: Infinity War has only increased her stardom. While Gurira's many other commitments may have caused her to leave the TV series, appearing in the film trilogy wouldn't take up quite so much of her time.
AMC had been hopeful about retaining her services, but acknowledged back in November that it would be hard to get her to balance the show with her other commitments. 'She has been very vocal about saying she loves the show. We love Danai; we love that character,' David Madden, AMC's Programming President, told THR. 'Right now, she's got a lot of opportunities and she needs to weigh what is best for her. But we certainly would want her on the show as long as she wants to be on it. We really want her to stay. Obviously, the lesson of Andy [Lincoln] is that the show can survive anybody's departure if need be, but that's not our goal. The goal is to have Danai continue on whatever basis she can make work, given the other things she has going on in her life.'
The Walking Dead has lost four of its main characters now. Michonne joins Rick, Carl (Chandler Riggs), and Maggie (Lauren Cohan) in exiting the show in the last year. The odd one out there is Carl, who was short-sightedly killed off before Lincoln announced he would stop playing Rick the following season. While Andrew Lincoln and Danai Gurira have left to pursue other projects, Lauren Cohan couldn't agree a new deal with AMC and has been unable to return, leaving around the same time as Lincoln. There is hope that she might return one day, but it won't be anytime soon.
AMC did succeed in tying down Daryl and Carol to the show's long-term future, as Norman Reedus and Melissa McBride signed new contracts that cement their roles going forward, as well as the possibility of popping up in Fear The Walking Dead, AMC's sister show.
Whether or not those characters will be enough to keep people tuning in is another matter. The show has been steadily losing viewers for the past few years, and it's unlikely that the departure of Rick and Michonne is going to convince anyone to tune in. AMC will be banking that fans' love for Daryl Dixon will keep viewers emotionally invested, but only time will tell if that is enough.
Josh is a huge a fan of Star Wars, superheroes and video games. He spends most of his time wondering who would win in a fight between Boba Fett and Star Lord.