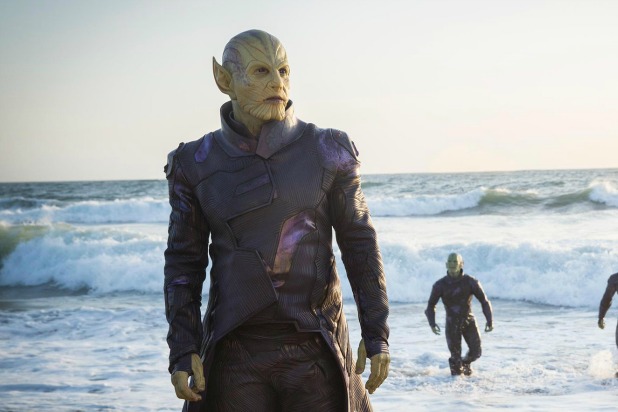 An executive producer on Captain Marvel has confirmed that there have been talks about adapting Secret Invasion into the Marvel Cinematic Universe.
In an interview with Collider, Jonathan Schwartz admitted that Marvel are thinking about planting the seeds for an adaption of the popular storyline from the comics.
Yes, we talked about Secret Invasion. I wouldn't go into this movie saying, 'Which one of these superheroes is a Skrull?' Because Carol is more or less the first superhero to show up on Earth. But are we planting the seeds for future movies? Always.
Adapting Secret Invasion would be a great way to present Earth's Mightiest Heroes with a different threat to a big bad like Thanos, yet still dangerous. The comic reveals that some of the planet's best superheroes have been Skrull imposters for a really long time, even members of the Avengers. It's a tantalising direction for the MCU, as we could find out that a hero even as big as Iron Man has been a Skrull the entire time.
It will probably be a while before we see it play out on screen, however. While Captain Marvel will make you wonder which characters are really Skrulls, Schwartz explained that the larger conflict between the Skrulls and the Kree is more of a backdrop than it is the central plot of the film.
There's a paranoia element that's a little bit different from what's in that specific storyline, but it's not related to the Anti-Superhero who could be a Skrull comic stuff. What I'd say about the Kree-Skrull war overall is it's much more of a kind of back drop and mythological underpinning for the movie than it is a direct lift of the plot like Civil War was.
It's very likely that it'll be another five years or so before we start getting real hints that Secret Invasion is coming, but it's a very interesting storyline that will definitely be a ton of fun to watch on the big screen.
For more Captain Marvel and Secret Invasion news, stay tuned to Movie News Net.
Josh is a huge a fan of Star Wars, superheroes and video games. He spends most of his time wondering who would win in a fight between Boba Fett and Star Lord.