Entertainment Weekly Reveals First Look at Disney's 'Aladdin'

Your wish is granted! Earlier this afternoon Entertainment Weekly revealed a first look at the upcoming live action adaptation of Aladdin. In addition to a gallery of images, EW spoke with director Guy Ritchie and the cast, and even shared a brief look behind the scenes at next year's magical adventure.

In addition to footage from the recent teaser trailer and some comments from the cast, we get glimpses of Naomi Scott (Jasmine) in what might be a wedding dress, Mena Massoud (Aladdin) running along a rooftop with the lamp in hand, Will Smith (Genie) performing a dance number with the ensemble, and Mena, again running and swinging between rooftops, doing stunts for what will presumably be "One Jump Ahead".
Guy Ritchie may have been an unconventional choice to helm a live action Disney musical, but based on this brief look behind the scenes it certainly seems like the decision was the right one. "My skill and experience could add enough to make it feel fresh and worth it, but not so much that it would wash away nostalgia," Ritchie told EW. From what we know of the film so far, that certainly appears to be the case. The heart of the story still comes from the animated original, but Ritchie and his team haven't been afraid to adapt things for both a longer, live action version of the tale, and a modern audience.
Just take Naomi Scott's Princess Jasmine. Her animated counterpart was arguably one of Disney's strongest Princesses back in 1992, fighting against marrying due to ancient laws and wanting to follow her own heart. Her choice to runaway drives the story from that moment on. Scott's Jasmine builds on that foundation, updating the character to even better reflect present day ideals. "Jasmine's main objective at the beginning is really to protect her people and do what is right by them," Scott told EW. "She has this beautiful arc and progression, and she goes from asking for what she wants to just taking it, and displaying that she is a leader."
And she's not alone. Along with Rajah (who is in the movie, along with another furry little thief we'll see below), Jasmine has a new best friend. Nasim Pedrad's Dalia, a handmaiden who helps Jasmine see off her unwanted suitors and supports her desire to lead her people.
But even with a human friend, Jasmine still ends up going out into the marketplace in disguise, where she meets Mena Massoud's Aladdin.
To play the street rat with a heart of gold, Massoud had to learn not only how to ride a camel, scuba dive, and all the other stunts, he had to learn how to sing and dance as well. "The singing and dancing I had to really train and put in time for, as I'm predominantly an actor first," Massoud told EW. One thing Massoud didn't have to train for was Aladdin's bromance with Genie; "the more I got to know [Will Smith] and the more I spent time with him, the stronger naturally our relationships became with our characters."
And speaking of Genie! "When you're doing things that are iconic, it's always terrifying," Will Smith told EW. Thankfully, Disney allowed Smith to create his own take on the wish granting funny man rather than try and mimic the irreplaceable Robin Williams.
"You really don't know who I am?" Genie asks Aladdin when he first appears. "Genie… wishes… lamp? None of that ringing a bell? Wow, that's a first."
"I started to feel confident that could deliver something that was an homage to Robin Williams but was musically different," said Smith, who recorded his own take on "Friend Like Me" on the first day he met the film's music team. Smith's Genie has swagger and a flair for fashion. Described as "part Fresh Prince, part Hitch", Smith drew inspiration from his 1990s roles and gives the character a bit of a "hip-hop flavour". He's also more self-aware, which for a fourth wall breaking Genie is an impressive feat. "I like the fact that our Genie has an ego," Ritchie said to EW, "and is a little bit vain and he cares about how he's presented because he's been doing this for a very long time."
On the subject of how he's presented, let's take a look at that full EW cover;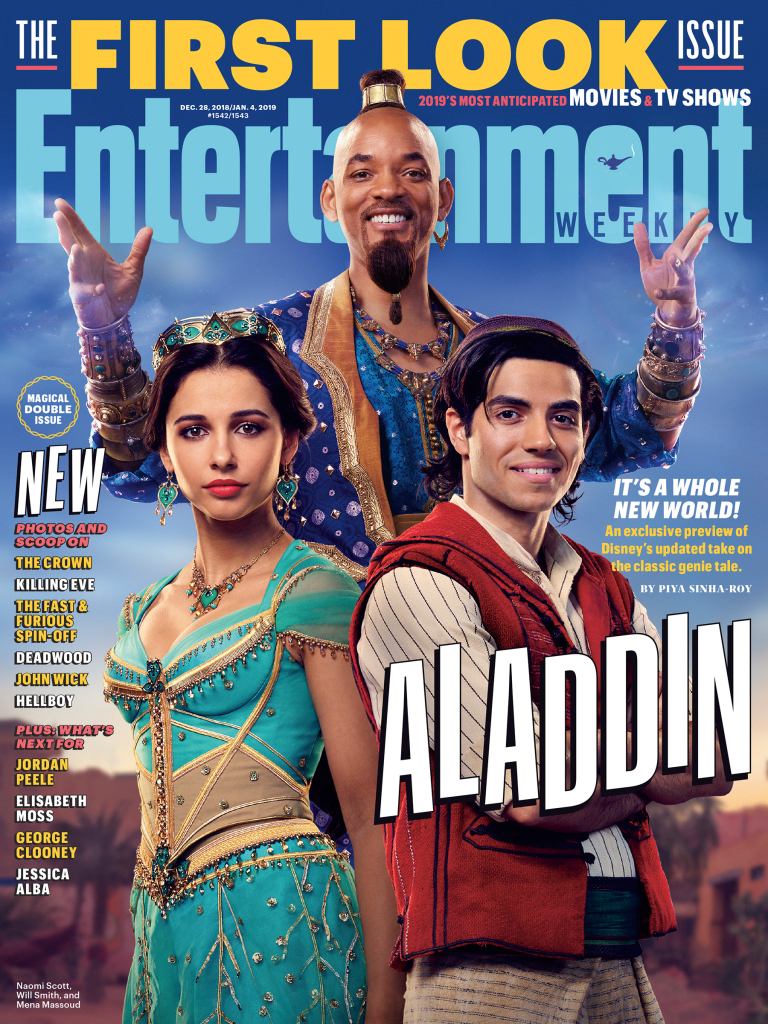 First off, I love that Genie isn't blue and how much the costume draws from the Broadway version. The colors on all three are great, they're bright and really make the image pop. I don't think they're perfect. When Aladdin was first revealed in the teaser trailer I said I wished they'd kept the shirtless look and seeing the full reveal I still feel the same. The same goes for Jasmine's redesigned top. I understand that the new looks may be more authentic (and practical when doing night shoots on location) but the original looks are so iconic it is a little disappointing that they didn't remain more faithful to them.
Aladdin's costume also feels a little too busy with all the pinstripes going on. This can be seen better in the images above, with Jasmine in the marketplace and Genie in the desert. That said, I didn't really get the same "busy" feeling when watching the behind the scenes video so this could easily be a case of something looking better in motion than in still images.
I know I said that I love that Genie isn't blue, but that isn't entirely true. He's not blue all the time. EW says that "the final version of Will Smith's Genie in his blue floating lamp form isn't quite finished", so we still have that reveal to come.
In addition to the above trio of heroes, EW also gave us our first look at both Abu and Marwan Kenzari's Jafar.
Yes, EW's first look finally confirmed that Abu is in the movie! And he looks just as you'd expect a live action version to look. I love Aladdin's trio of friends in the stage show, but it's great to see his furry friend returning for the live action adaptation.
As someone who grew up on the original animated film and then saw Jonathan Freeman (who voiced the character) play the role on stage, it's strange to see Jafar look so young. We certainly won't be seeing the Sultan telling Marwan Kenzari "you're so old" in this version of Aladdin. His costume here is more golden than Jafar's traditional look, but he has the lamp and EW notes this is the moment where he wishes to be a powerful sorcerer, so we're likely looking at Sultan Jafar in this image, so the more regal look is fitting. You can also see behind him, the palace has been transformed, with fire pits supported by golden snakes and palace guards in red, black, and gold robes to match their master.
In addition to director Guy Ritchie and the cast, EW also spent time with production designer Gemma Jackson, who re-created Agrabah in England, creating a set the size of two football fields! Whilst Aladdin was filmed on location, having the set was freeing for Jackson; "I was freer to pull things from where I wanted them," she told EW, "I didn't just have to be Moroccan."
The massive set gave Ritchie, his cast, and crew, the perfect playground for big musical production numbers and fast paced action scenes. "It's like Old Hollywood and what making big movies was like in the 1950s," Ritchie told EW.
Agrabah, a landlocked city in the middle of the desert in the original movie, was reimagined as "a vibrant, dusty, and millennia-old bustling port city." Aladdin boasts a cast of over 500 extras of diverse backgrounds, representing the diviersity of the Middle Eastern and South Asian worlds. The film has a "slightly broader world, a hybrid world" according to Ritchie, and Massoud agrees; "We've covered almost every continent, which is rare these days, but I'm really proud to be in a film that represents so many visible and ethnically different cultures".
I think my favorite image revealed today has to be this one;
An almost perfect re-creation of the moment Aladdin saved two children from the whip of one of Jasmine's suitors after offering them the loaf of bread he risked his life to steal. "One Jump Ahead" introduced his character and his personality, but it was giving the children the loaf of bread and this moment that showed why he was the diamond in the rough worthy of the lamp.
Aladdin opens May 24th 2019.