RUMOR: Two 'Eternals' Characters Could Appear Ahead of Their Movie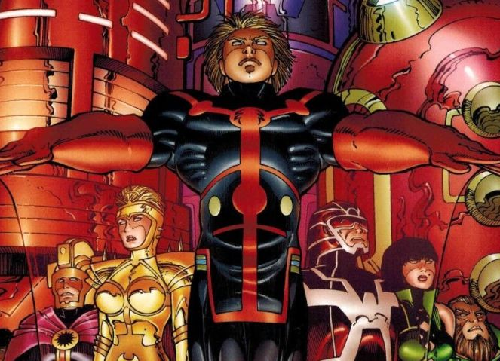 The Eternals is one of the most unexpected projects to ever be greenlit at Marvel Studios, but given how the characters open up a variety of stories for the Avengers on Earth and tons of Marvel Cosmic movies, their arrival in the setting may prove to be very important. Recently, a rumor popped up suggesting that we might be meeting two of them in a movie that releases next year.
Scooper DanielRPK was able to confirm that two roles for The Eternals are being cast right now, well ahead of the planned start date to filming The Eternals in the middle of next year. That movie has a no shortage of major roles to cast, with at least twelve major characters, but he was able to narrow the picks down to two: "Karen" (whose comic book counterpart has yet to be understood) and Piper (who appears to be this movie's version of Sprite).
The two Eternals are "Karen" and Piper/Sprite. They will most likely show up in a cosmic Marvel movie so either Captain Marvel or Avengers 4. A4 is more likely.

— Daniel R (@DanielRPK) November 24, 2018
The timing of the casting makes it incredibly likely that these two are going to appear in someone else's movie before their standalone film. Given that filming on both Captain Marvel and Avengers: Endgame have wrapped (aside from any last-minute reshoots), it's likely that these characters will only appear in a post-credits scene for either movie. Endgame seems like it would be the best fit, and while both stories are cosmic in nature, Captain Marvel is immediately meant to provide set-up for the events of Endgame in spite of being a distant prequel. Spider-Man: Far From Home, conversely, won't have much of a focus on cosmic events, and is instead meant to pave the way for the future of the setting for post-Endgame stories set on Earth.
The Eternals is currently in development at Marvel Studios and is currently without a release date. Production is set to begin in the middle of next year.

Grant Davis is a freelance writer who has covered entertainment news for more than four years. His articles have frequently appeared in Star Wars News Net as well as as other entertainment-related websites. As someone who grew up on Star Wars and comic book movies, he's completely thrilled with the current era of genre entertainment.