A world dies as Elseworlds begins. Whilst the highly anticipated crossover event doesn't officially begin until Sunday, a post-credits scene on yesterday's Supergirl kicked things off in dramatic fashion.
Welcome back to Earth-90. The home of John Wesley Shipp's Barry Allen from the classic Flash TV series. A world that is no more.
A last alliance of heroes has fallen, leaving only The Flash, bloodied but still defiant, crawling towards a dark book in the burning wasteland that remains of his world.
"You've failed." The Monitor tells him, before opening the book as he proclaims "now, all of you will perish." As white light, an anti-matter wave perhaps, spills from the book, Flash runs.
As teasers scenes go, it's arguably the best DC has ever done. Not only does it set up a crossover of Crisis level proportions with the live action debut of The Monitor, it brings back the classic TV Flash. Not just John Wesley Shipp playing Henry Allen or Jay Garrick, both of which were inspired casting, but his actual Barry Allen Flash.
One of DC's greatest strengths is its multiverse. The Arrowverse, especially The Flash, has played with the concept for years. Last year's Crisis on Earth-X saw the heroes of Earth-1 and Earth-38 facing their evil counterparts from another world. But Elseworlds is showing its true potential. All of our favorite DC shows exist out there in the multiverse. And they can come back. We've seen some fantastic legacy casting in both Smallville and the Arrowverse, but this is something that fans have only dreamed of. Until now. Elseworlds is the first step into a larger multiverse.
And those fallen heroes? According to Comic Book Resources they are Stargirl, Huntress, Firestorm, Spartan, Captain Cold (from 1990's The Flash), Jesse Quick, The Ray, Captain Cold or maybe Citizen Cold, Hawkman, Hawkgirl, and Green Arrow.
Whilst it's possible that all of these heroes and villains hailed from Earth-90, it's also possible that they come from other worlds both familiar and unknown. The Ray and Captain Cold could easily be the heroes from Earth-X. Hawkman and Hawkgirl could be former Legends. And Green Arrow, based on his costume, may once have called Smallville his home. We may discover where some of these heroes came from during Elseworlds itself, but it's likely that it will be left ambiguous just in case the creative teams want some of them to return in the future. Either way, the multiverse feels a whole lot bigger than it did a day ago.
Elseworlds begins Sunday December 9th on The CW.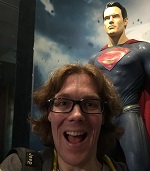 Chris is a lifelong fan of Disney, Star Wars and super heroes who can't quite believe this golden age of movies and TV we're living in. Having written blogs dedicated to Disney's Aladdin musical and Star Wars Celebration, Chris is excited to be part of the MNN team.