Marvel's Runaways returns to Hulu this month and generations are set to collide as the kids take the fight to their parents in the new trailer for season two.
Last season ended with the titular Runaways finally running away, having discovered their powers but also that their parents are part of a murderous organisation known as PRIDE. The second season looks set to kick up the action as the young teens learn to work together as a team in order to confront their parents and stop PRIDE's plans.
"The Runaways have left their homes (and evil parents) behind and now have to learn to live on their own. As they scavenge for food, search for shelter, and take care of one another, our kids begin to realize that, for better or worse, they're stuck with each other. And it's up to them to take down PRIDE once and for all. But someone sent a mysterious message to Jonah… Is there a mole in the Runaways? Meanwhile PRIDE is focused on finding their children, and Jonah has his own dangerous plan in mind."
In addition to the trailer, Hulu also debuted a new poster for the show's second season.
Runaways returns December 21st on Hulu.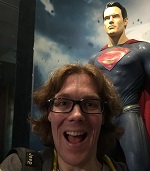 Chris is a lifelong fan of Disney, Star Wars and super heroes who can't quite believe this golden age of movies and TV we're living in. Having written blogs dedicated to Disney's Aladdin musical and Star Wars Celebration, Chris is excited to be part of the MNN team.