Young Justice: Outsiders is set to debut in January and DC Universe has released a new trailer for the highly anticipated return. It's been a long wait for fans of the animated series, but it's almost over.
The trailer focuses on the new threat of metahuman trafficking. An intergalactic arms race for control of Earth's super powered youths that will see heroes old and new challenged like never before. Who's behind this new threat isn't revealed, but the ending of the show's second season and Wonder Woman's reference to "the enemy" both point towards Darkseid.
Young Justice: Outsiders will premiere on DC Universe on January 4th. And that's not all. According to Comic Book Resources DC Universe will premiere three episodes every week throughout January, and four episodes for the show's midseason finale on January 25th. After almost a six year wait, fans will be treated to half a season in a single month!
Ahead of Outsiders debut, DC Universe will begin streaming the first two seasons of Young Justice from December 4th, along with all new "enhanced" content including commentary and trivia from the show's creators, comic writers, and more. Given that Young Justice has been one of DC Universe's most popular shows, it should be safe to presume that the series will have plenty of life beyond this season.
Young Justice: Outsiders is streaming exclusively on DC Universe.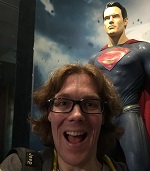 Chris is a lifelong fan of Disney, Star Wars and super heroes who can't quite believe this golden age of movies and TV we're living in. Having written blogs dedicated to Disney's Aladdin musical and Star Wars Celebration, Chris is excited to be part of the MNN team.