Everyone's favorite ogre is set to make a come back! Illumination's Christoper Meledandri has been tasked with reviving Shrek and Puss in Boots for Universal Pictures.

At one point Meledandri, founder of Illumination Entertainment and the man behind the Minions, looked set to take over DreamWorks itself when the studio was purchased by Universal's parent company Comcast. Whilst tempted, Meledandri ultimately passed on the opportunity, telling Variety "The way in which I work with my team to make movies is very intensive and hands-on, and it really doesn't allow me the opportunity to think about running a second operation. I love the process of making films and working with artists. I don't think I'm particularly great at managing companies."
Though he may have passed at running the studio, he did agreed to take on two of Dreamworks' best loved characters; Shrek and Puss in Boots.
But don't expect a total reboot.
Speaking with Variety, Meledandri was very clear that he views the original voice actors as a key part of Shrek's enduring popularity. "When you look back on those vocal performances they're awesome, and while you certainly could make a case for a complete reinvention, I find myself responding to my own nostalgic feelings of wanting to go back to those characterizations."
Instead he will seek to find new stories to tell, and new adventures for the beloved characters. "The challenge for us has been to find something that really does feel like it's not simply yet another film in a series of sequels," Meledandri told Variety, "There's a tremendous amount of fun to be had in that world, but it's a high bar … you want to find something in the narrative that really feels like a departure."
With The Grinch due to hit theaters later this month, and sequels to The Secret Life of Pets, Minions, and Sing already planned for the next two years, we won't be returning to the land of Far Far Away any time soon. As Variety notes, Meledandri hasn't quite cracked the Shrek code yet. This is just the start of the journey. Shrek fans will need a little patience as they wait for the lovable ogre to make his return. Or, as Donkey might say, "are we there yet?"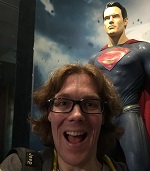 Chris is a lifelong fan of Disney, Star Wars and super heroes who can't quite believe this golden age of movies and TV we're living in. Having written blogs dedicated to Disney's Aladdin musical and Star Wars Celebration, Chris is excited to be part of the MNN team.