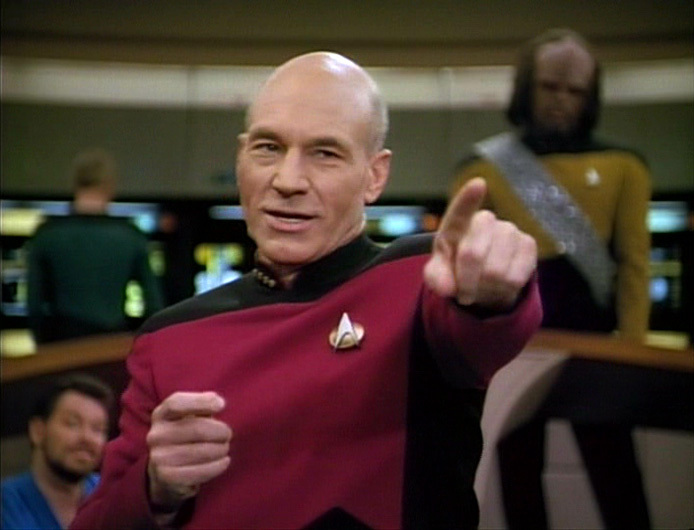 After last month's confirmation that Patrick Stewart would be returning to the world of Star Trek, Stewart has released an image of himself meeting with the talent behind the upcoming CBS All Access series.
Stewart became a sci-fi icon when he assumed the role of Jean-Luc Picard, the captain of the USS Enterprise-D in Star Trek: The Next Generation. While fans were skeptical of the concept of a show in the franchise without the original cast, it quickly became a fan-favorite take on the franchise. Stewart would go on to portray Picard for fifteen years from the first episode of the series in 1987 to 2002's fourth and final Generation-era movie, Star Trek: Nemesis. And now, after a little over fifteen more years, it looks like he's ready to make a comeback as he meets with the crew for the new spin-off:
The journey has begun. Kirsten Beyer, Michael Chabon, Akiva Goldsman, Diandra Pendleton-Thompson, James Duff, and yours truly. #StarTrek pic.twitter.com/GxhwkTIgWQ

— Patrick Stewart (@SirPatStew) September 24, 2018
The series, which is set 20 years after Nemesis, covers a new chapter of Picard's life, exploring a character who has changed significantly in the decades since he parted ways with the rest of the crew of the Enterprise and helped usher in peace between the Federation and the Romulan Star Empire. Details on the story are currently pretty scarce beyond that, but it's likely that the story will be influenced somewhat by the backstory of the 2009 Star Trek reboot (which is also a sequel, thanks to time-travel being a catalyst for the entire story), as Romulus being destroyed likely has huge implications on the state of the setting 12 years after that event took place.
The untitled series about Captain Picard is in development at CBS All Access. There are plans for other Star Trek shows on the streaming platform, including a new animated series, a show about Starfleet, and a show focusing on infamous villain Khan Noonien Singh. In addition, Star Trek: Discovery is expected to continue.

Grant Davis is a freelance writer who has covered entertainment news for more than four years. His articles have frequently appeared in Star Wars News Net as well as as other entertainment-related websites. As someone who grew up on Star Wars and comic book movies, he's completely thrilled with the current era of genre entertainment.