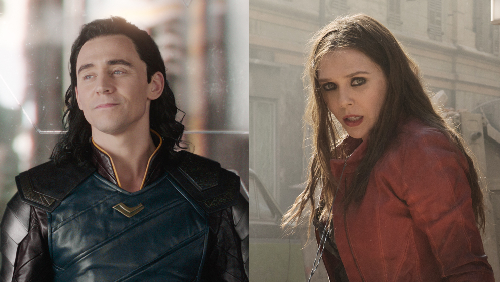 Some of the biggest names in the Marvel Cinematic Universe are headed for the small screen. Disney's Streaming Service will feature shows that include the likes of Tom Hiddleston's Loki and Elizabeth Olsen's Wanda Maximoff/Scarlett Witch.
Variety is reporting that Marvel Studios will be developing an unspecified number of limited series for the small screen focusing on specific characters. Unlike various other Marvel Entertainment shows (including ABC's Agents of S.H.I.E.L.D. and Agent Carter, Netflix's Daredevil, Jessica Jones, Luke Cage, Iron Fist, The Defenders, and The Punisher, Hulu's The Runaways, and Freeform's Cloak and Dagger) that are set in the Marvel Cinematic Universe, Marvel Studios President Kevin Feige is said to be involved with these projects. With this in mind, it's more likely that these shows will feature bigger connections to the movies than the occasional references on the other series.
It's not clear how many projects have been greenlit, but what is known is that there are Loki and Scarlet Witch projects in development featuring the actors who play them in the movies, and the shows themselves will likely focus on characters that don't have their own movie franchises (with Iron Man and Captain America-based projects explicitly being ruled out). Each project is expected to have a 6-8 episode run and a budget that rivals a studio production, which would open the door for more long-form narratives involving lesser-known Marvel characters. In any case, this is a big commitment for Disney's streaming service, and these projects – along with the Star Wars projects in development for the service – should prove to be the killer app that makes the service a must-buy for fans.
Interestingly, this would lend credence to the idea that Marvel Television could be moving under Kevin Feige's control after Disney's acquisition of 20th Century Fox is complete. While that's just a rumor for the time being, it would signify that Marvel Studios TV projects will get preferential treatment over Marvel Entertainment projects for now. Ongoing series on the networks listed earlier will likely be unaffected, but the chances that they'll cross over with the movie characters is comparatively slimmer.
Disney's untitled streaming service is expected to arrive in Autumn 2019. It is not known if any of these planned shows will be available at the launch of the service.

Grant Davis is a freelance writer who has covered entertainment news for more than four years. His articles have frequently appeared in Star Wars News Net as well as as other entertainment-related websites. As someone who grew up on Star Wars and comic book movies, he's completely thrilled with the current era of genre entertainment.