Todd Phillips' Joker has finally found it's Thomas Wayne. Variety has confirmed that Brett Cullen has joined the cast as Bruce Wayne's father.

Cullen, who is no stranger to the DC Universe having previously played a Congressman in Christopher Nolan's The Dark Knight Rises, joins the production following Alec Baldwin's exit last month due to a scheduling conflict.
Whilst Thomas Wayne is best known as Bruce's philanthropic father, whose murder drives his son to become Batman, there are tales where he has donned the cape and cowl himself. The most recent of these is the fan favorite Flashpoint version, who first appeared in 2011's Flashpoint event and returned last year as part of DC Rebirth. There was even talk of Jeffrey Dean Morgan portraying this version of Batman when Flashpoint was being considered for the DC Films universe.
Sadly those waiting to see a Flashpoint style take on the character on the big screen will likely have to keep waiting. ComicBook.com, who originally broke the story of Cullen's casting, claim that Joker's Thomas Wayne is "not one described as aiming for fan-favoritism … the character is expected to be a less friendly iteration, playing a role in the Joker's origin story in one way or another." They also claim that Joker will "feature a very young Bruce Wayne" in some capacity.
Joker is currently filming and is due for release October 4th 2019.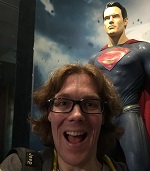 Chris is a lifelong fan of Disney, Star Wars and super heroes who can't quite believe this golden age of movies and TV we're living in. Having written blogs dedicated to Disney's Aladdin musical and Star Wars Celebration, Chris is excited to be part of the MNN team.