First Trailer For Matt Groening's 'Disenchantment'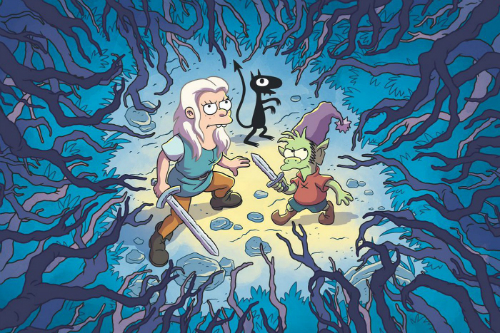 But can it go on for 29 seasons?
Matt Groening has a new series coming to Netflix. Though the news may have gotten overshadowed by Aquaman, Shazam!, Godzilla, and other big tent-pole movies, the first trailer for Disenchantment also dropped during San Diego Comic-Con. You can it out below!
As one can see, Groening's signature style is all over this trailer. Though the animation clearly gives away Groening's influence, one can also hear the voices of frequent Groening collaborators like Tress MacNeille, John DiMaggio, and Maurice LaMarche in the trailer. Longtime collaborator Billy West will also be joining the voice cast, alongside Abbi Jacobson, Eric Andre, Nat Faxon, and others.
It's unclear if Disenchantment will be as memorable as The Simpsons or Futurama, but I'm glad the show seems to have a unique identity of it's own. The medieval setting is a nice distinction from Groening's past work, and I also like some of the humor showcased in the trailer. More importantly, I loved the choice of song for the trailer. I'm sure the music will be different in the actual show, but this trailer definitely had me listening to "Rebel Rebel" all weekend long.
I also find it interesting that Netflix ordered an original property from Groening. With how fast streaming services have been picking up cancelled shows – with Lucifer just being a recent example – I'm surprised Netflix didn't revive a fan favorite show like Futurama first. But perhaps Groening himself has moved on from the show and is attempting to try something new with Disenchantment, which is completely understandable.
The official synopsis for the series:
In Disenchantment, viewers will be whisked away to the crumbling medieval kingdom of Dreamland, where they will follow the misadventures of hard-drinking young princess Bean, her feisty elf companion Elfo, and her personal demon Luci. Along the way, the oddball trio will encounter ogres, sprites, harpies, imps, trolls, walruses, and lots of human fools.
The first 10 episodes of the Disenchantment will be released on Netflix on August 17th. Another 10 episodes have already been ordered by Netflix, but it remains unclear as to when they may air.