Will Ironheart Replace Iron Man in the Marvel Cinematic Universe?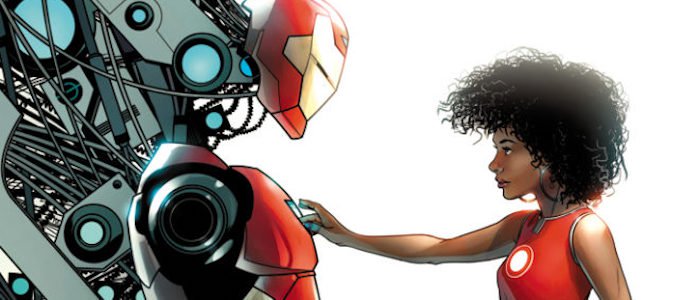 A new rumour suggests that Marvel may be gearing up to replace Tony Stark as Iron Man in the Marvel Cinematic Universe with Ironheart.
The Black List tweeted that one of their readers got to see a script for Ironheart, a film where a young African American girl dedicates her life to becoming a superhero, with the help of Tony Stark.
IRONHEART by Jada Rodriguez was one of the best scripts our readers read last week. https://t.co/cGkwm9RLOW pic.twitter.com/O1khyMnqvO

— The Black List (@theblcklst) July 19, 2018
Marvel fans will identify this character as Riri Williams, a remarkably intelligent young woman who builds her own suit of armour to become Ironheart, with the assistance of Tony Stark. She succeeds Iron Man when he falls into a coma after the events of the comic book event series Civil War 2.
Now, before you start getting excited, this was not an official script. The Black List simply collects the best unmade screenplays in Hollywood. There's nothing indicating that this is official and Marvel hasn't even acknowledged the screenplay's existence.
However, The Hashtag Show has pointed out that if this script has been picked up by The Black List, then that could mean that Marvel hired someone to write an exploratory draft of the film. If that was true, it would confirm that they are at least thinking about making an Ironheart movie. At some point, they'll have to retire the character of Tony Stark or get a new actor to play the character (which is much less likely to happen, given Robert Downey Junior's commitment to the franchise).
Interestingly, if the script was commissioned by Marvel, then it would put a stop to fan theories that Black Panther's Shuri will be the next Iron Man. Shuri's level of genius would make her an excellent candidate to succeed Tony Stark in an Ironheart. The audience already knows and loves Shuri, so it would be easy to give her a solo film rather than take the time to introduce a new character. This script would suggest that Marvel are going to keep Shuri in Wakanda though, leaving open the possibility for her to become the new Black Panther on a permanent basis.
What do you think about this rumour? Would you want to see Riri Williams as Ironheart, or Shuri? Or should Marvel retire Iron Man altogether when Robert Downey leaves the MCU? Let us know in the comments and stay tuned to MNN for further updates.