Leaked Shazam! Footage Gives Us First Look at the Superhero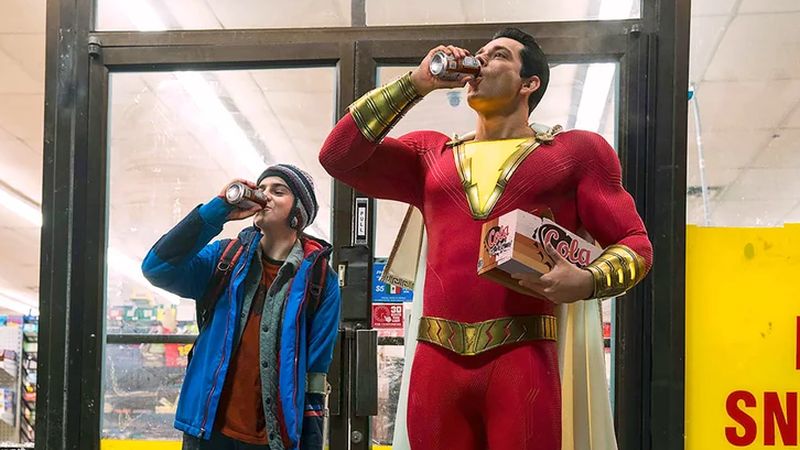 An upcoming featurette for the Shazam! film has been leaked online ahead of Comic-Con.
With principal photography pretty much finished for Shazam!, it seems Warner Bros. are planning on showing off a behind the scenes featurette at San Diego Comic-Con.
The featurette was leaked on Instagram by fan_dc.marvel, who saw it debuted at the Odessa International Film Festival.
As well as dubbed interviews from Zachary Levi and director David F. Samberg, the featurette also has some quickly edited footage of Shazam hanging out outside a convenience store and fighting the film's villain.
We get to see a clip Shazam and Freddy Freeman enjoying a soda, presumably right after the hero has prevented a convenience store robbery, judging by the artwork shown off. There's a shot of Levi having a laugh on set, who seems to have be having a lot of fun working on the film.
The footage also gives us an early look at Doctor Sivana, who can be seen pushing police offers to the side. There's an even a shot of him attempting to punch Shazam, who rises to meet him with a closed fist of his own.
Overall, the featurette does a great job of conveying the tone of the film. It looks like reports of this film going against the dark and gritty theme of the DC universe are true. It looks like a lot of fun.
Assuming Aquaman is a success, perhaps DC can finally settle into a confident groove with this film and the Wonder Woman sequel.
For further updates on Shazam! tune in to MNN.