DC Universe Reveals First Details of "The Ultimate DC Membership"
Watch. Read. Shop. Connect. DC Universe promises to be so much more than a simple streaming service as DC Comics reveals the first major details of their new digital service.

"A first-of-its kind digital subscription service that gives fans access to exclusive content and experiences not available anywhere else."
That's how DC describe DC Universe. And they're not wrong.
The main attraction of DC Universe is, of course, the exclusive new series that will be premiering on the service, and today's press release revealed new synopsis for each of the series set to debut on the digital platform;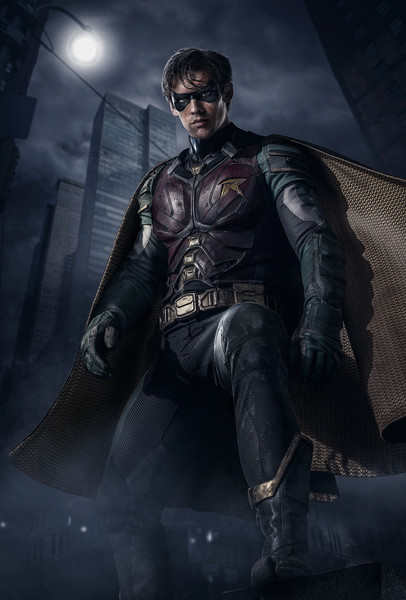 Titans follows young heroes from across the DC Universe as they come of age and find belonging in a gritty take on the classic Teen Titans franchise. Dick Grayson and Rachel Roth, a special girl possessed by a strange darkness, get embroiled in a conspiracy that could bring Hell on Earth. Joining them along the way are the hot-headed Starfire and loveable Beast Boy. Together they become a surrogate family and team of heroes.

Doom Patrol is a reimagining of one of DC's strangest group of outcasts: Robotman, Negative Man, Elasti-Woman and Crazy Jane. Led by the mysterious Dr. Niles Caulder they're called into action by the ultimate hero for the digital age, Cyborg. Banding together these rejects find themselves on a mission that will take them to the weirdest and most unexpected corners of the DC Universe.

Swamp Thing follows Abby Arcane as she investigates what seems to be a deadly swamp-born virus in a small town in Louisiana but soon discovers that the swamp holds mystical and terrifying secrets. When unexplainable and chilling horrors emerge from the murky marsh, no one is safe.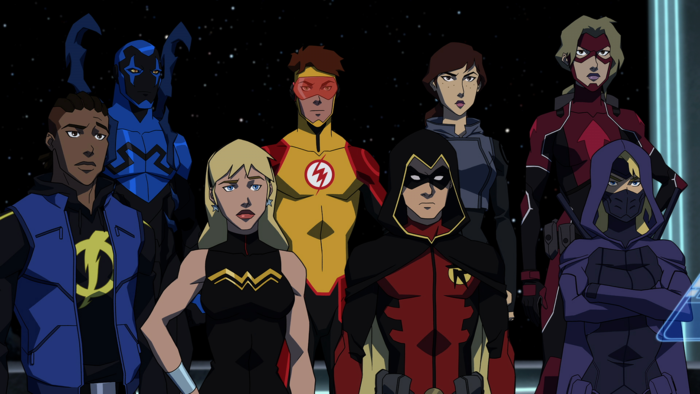 Young Justice: Outsiders features the return of the fan favorite animated series with a huge cast of DC's most iconic young superheroes – plus brand-new characters, many of whom are just discovering their unique meta-powers and special abilities. Set against the backdrop of a rich, deep world that touches all corners of the DC universe, the season focuses on meta-trafficking, and an intergalactic arms race for control of these super-powered youths.

Harley Quinn follows Harley's adventures after she breaks up with the Joker and strikes out on her own in this new adult animate comedy. With the help of Poison Ivy and a ragtag crew of DC castoffs, Harley tries to earn a seat at the biggest table in villainy: the Legion of Doom.
But with only Titans set to debut with the service this year, DC Universe has far more to offer than just new series.
Launching with the service will be a wide selection of classic DC movies and TV series, both animated and live action. Superman: The Movie? Yep, along with all three classic sequels. Justice League: The Flashpoint Paradox? Check, along with several other DC Animated Original movies. Batman: The Animated Series? Of course! And let's not forget Wonder Woman, the classic TV series will be available for the first time in HD exclusively on DC Universe!
In fact let's take a look at the end of that trailer;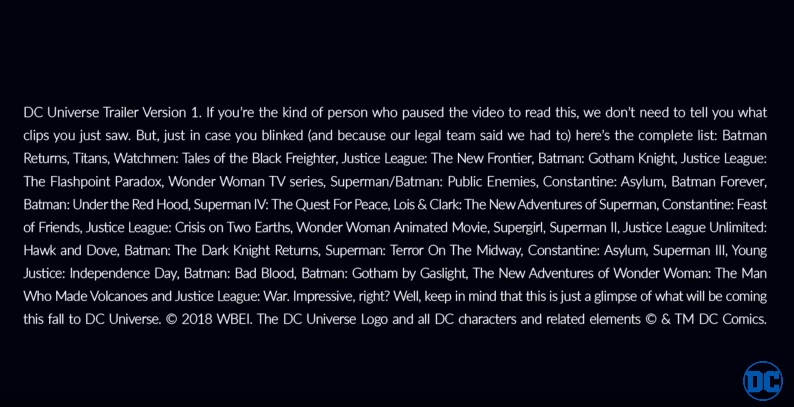 "Just a glimpse of what will be coming this fall to DC Universe." That's a lot of content!
It's important to note that the press release does say the movies will be "available at launch for exclusive streaming windows", so it's highly likely that not everything will be available at once, with films – and likely TV series as well – switching in and out over time.
And DC Universe offers far more than just movies and TV series. Through DC Universe's comics reader, fans will be able to read some of DC's greatest stories, from Action Comics #1 to The New 52, and I'm sure I saw some Rebirth comics in the trailer as well. Like with movies, the selection of comics available with change over time, aiming to provide a wide range of titles that cater to both new readers and long term fans.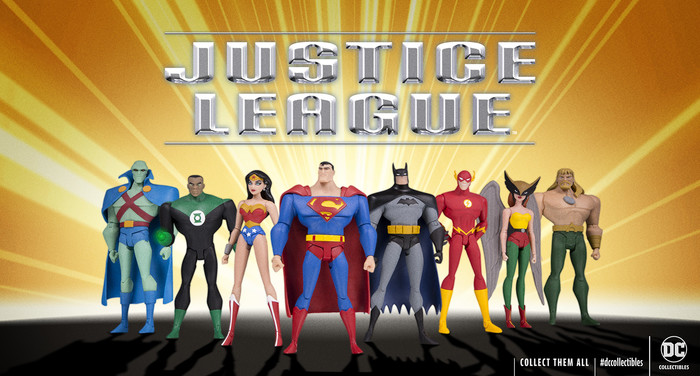 Through DC Universe, fans will have access to exclusive new merchandise for DC Collectibles, beginning this fall with the Justice League animated series line based on the acclaimed 2001-2004 series.
DC Universe will be home to the latest news and updates from the world of DC Comics, with short-form news, interviews, and previews posted everyday from every corner of the DCU. Members will have access to an extensive, living, DC encyclopedia, which they will also be able to contribute to, and to exclusive competitions, with the chance to win everything from game unlocks to first-chance access to pop-culture events.
In addition to everything else, DC Universe is also intended to be a community. Members will be able to select their own avatar, rate, create, and share their personal playlists, and join in the discussion on the DC Universe forum.
To be honest, if you're a DC fan it sounds amazing. Pricing will obviously be a key factor – both pricing and exact launch date are still to be revealed – but it certainly seems like Warner Bros. and DC Entertainment have put a lot of thought and care into this platform and are determined to make it a must-have service for the fans.
The only negative I  can find is that "DC UNIVERSE will be available in the United States at launch on iOS, Android, Roku, Apple TV, Amazon Fire TV, and Android TV, as well as the web and mobile web." That sound you hear is my international fan heart breaking. Hopefully as we get closer to launch DC will confirm international plans as well, because I'd hate to miss this!