Promo Art for 'Captain Marvel' and 'Avengers 4' Leaks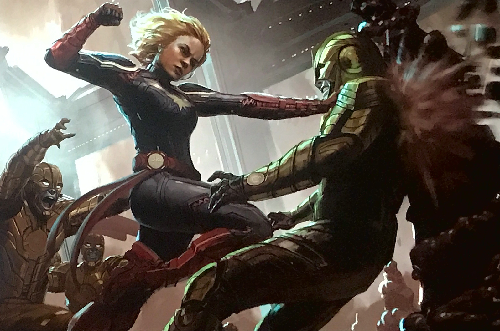 Some new promo art for Marvel's next two releases after Ant-Man and the Wasp have surfaced, showing plenty of Captain Marvel between her eponymous movie and Avengers 4. Also featured are several Avengers as they will appear in the movie that will close out Phase 3, and with it an entire era of Marvel Cinematic Universe movies.
Confirming the authenticity of the promo art that got out a few weeks ago, some new promo art showing several members of the team (including Hulk, Ronin AKA Hawkeye, War Machine, Rocket, and Nebula) prepared to strike has surfaced, alongside a look at Thanos in full armor and wielding a new weapon alongside the repaired Infinity Gauntlet. Meanwhile, several promo pieces for Captain Marvel were unveiled, including a new look at Nick Fury as he appeared in the 1990s:
More #CaptainMarvel Art.. ?? pic.twitter.com/XMmIQZHcmP

— Aj Designs (@ajdesigns0220) June 28, 2018
Marvel has a distinct kind of design to their promo art that is pretty consistent from movie to movie. As such, these images seems to line up pretty well, and it's not hard to imagine that several of the ones made for Captain Marvel can interchangeably be used with the Avengers 4 images. Obviously not the ones for Nick Fury, though.
Captain Marvel will be released on March 8, 2019. Avengers 4 will be released on May 3, 2019.

Grant Davis is a freelance writer who has covered entertainment news for more than four years. His articles have frequently appeared in Star Wars News Net as well as as other entertainment-related websites. As someone who grew up on Star Wars and comic book movies, he's completely thrilled with the current era of genre entertainment.