'Sicario: Day of the Soldado' Review
Sicario was a great action-thriller helmed by the one of the best auteur filmmakers working today, Denis Villeneuve. When Sony announced they were working on a sequel without Villeneuve's involvement, I was skeptical. Thankfully, Sicario: Day of the Soldado (despite having an odd title) is a worthy sequel that lives up to the original.
The plot follows the drug war at the U.S.-Mexico border. The war has escalated to the point where the cartels have begun transporting terrorists inside the U.S. border, which forces the CIA to take extreme measures in order to prevent acts of violence on American soil. They then devise a plan to keep the tension between rival cartels and off of U.S. territory. Matt Graver is tasked to carry out the mission, which is a false flag operation involving kidnapping, so he reunites with former undercover operative Alejandro Gillick to aid in the operation.
The first thing I noticed about Soldado was how seamlessly it blended in with Sicario. Despite not having Denis Villeneuve returning as the director, Stefano Sollima does a fantastic job of making Soldado feel like a perfect continuation of the first film. His style, and the tone he set with Soldado, flawlessly match with what Villeneuve started in Sicario. If I hadn't known otherwise, I probably would have assumed that the two movies were directed by the same person. Which is even more impressive considering the fact that Soldado is Sollima's first American production. On top of this, Sollima's work never felt like a cheap imitation of Villeneuve's directorial style; Sollima was able to further this world with his own unique flair.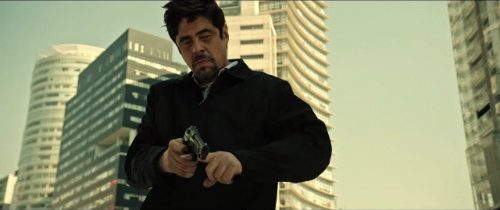 Other frequent Villeneuve collaborators are absent as well. Editor Joe Walker, composer Jóhann Jóhannsson, and legendary cinematographer Roger Deakins all worked on the original Sicario, but did not return for the sequel. Unfortunately, Jóhann Jóhannsson passed away this February, but composer Hildur Guðnadóttir did a solid job of adding on top of that original score. Guðnadóttir's music isn't quite as suspensful as Jóhannsson's, but it works well for the movie. Though Matthew Newman does a fine job on editing, the pacing wasn't as well balanced as Joe Walker's final cut on Sicario. Though I absolutely love Newman's work on Drive, he has really impressed me with anything since then, and I just prefer the way Walker paces out a scene. And of course, no one can outdo the work of Roger Deakins, but Paolo Carnera comes pretty close. Soldado's aesthetic was marvelously gritty and dirty, yet Carnera still managed to get some beautiful shots.
One of the only crewmembers to return from the original film was Taylor Sheridan as the writer. To this day, I would argue that Sheridan has yet to write a bad screenplay (movie wise at least, Yellowstone doesn't count). I admire his neo-western style and how the tension in each of his scripts gradually build into an explosive action sequence. Wind River and Hell or High Water are probably more important/impressive movies, but I would be lying if I said I didn't enjoy Soldado a bit more; it's just a fun action movie that feels more mainstream than his other films.
Sheridan's script isn't perfect, however, as I have plenty of issues with the first and final acts of the film. Without Emily Blunt's character, Soldado really doesn't have one central figure to follow. This leaves the first act without much focus, and the plot really stumbles a bit since it can be all over the place. Thankfully, the second act really tightens up the focus of the main storyline. The first act may be filled with more action, but the second act allows us to have some insightful and introspective character moments. The final act may lose some audience members though, as Soldado takes a few unexpected twists and turns. I happen to enjoy the climax and denouement, but I understand why others may not like it. The movie may have lost me for the briefest of moments during these climactic reveals, but I understood what the filmmakers were going for, so I fell right back into enjoying the story.
Josh Brolin's reign over the summer season continues. Though Matt Graver doesn't quite have the same level of complexity as someone like Thanos, Brolin still delivers a solid performance. Graver is a gruff guy, so Brolin's performance can be a little one-note at times, but it works since Brolin isn't the main focus of this story. Graver is more like the Nick Fury of the Sicario world; he pops up and brings certain characters together, but he isn't the main character himself. I specifically enjoyed how Soldado places Graver into several sticky situations, because seeing him handle difficult decisions shows us a lot about his character. Brolin has just been killing it lately, and I can't wait to see whatever he gets involved in next.
Though Benicio del Toro had an important role in Sicario, his character is even more prominent in Soldado. I would argue that del Toro's character, Alejandro Gillick, has become the central protagonist given the fact that he shows the most character growth. We learn a lot about Gillick in Soldado, including his motivations, his morals, and his past, all of which allow us to understand his things from his perspective. Gillick was a mysterious character in Sicario, so I'm glad Soldado took the time to explore his psyche even further. And of course, del Toro's performance of the character is excellent.
But the standout performance didn't come from either Brolin and del Toro, it came young actress Isabela Moner. Most people may recognize Moner as the young girl from Transformers: The Last Knight, but this portrayal blows that performance out of the water. Moner gives Soldado a layer of heart that I honestly didn't expect. I was worried that the absence of Emily Blunt's character would hurt the narrative and make Soldado feel like a mindless action flick, but that is not the case here. Moner clearly picks up the emotional heft that Emily Blunt's absence leaves behind. Her character, Isabela Reyes, is clearly the crux of the entire movie. The fact that Moner held her own against veterans like Brolin and del Toro is just all the more impressive.
Unfortunately, I wasn't as satisfied with the other additional cast members. Matthew Modine and Catherine Keener didn't add much to the overall narrative. Their characters seem to exist solely to place obstacles in the way of our protagonists. Which is fine, I suppose, since something has to move the plot along after all. It's just a shame that talents like Modine and Keener were left wasted since they didn't have a large presence in the movie anyway.
If you enjoyed the first Sicario at all, then you may find Soldado is worth checking out. This is a violent, pulpy, raw, and gritty action film that feels grounded, and even has an unexpected amount of heart. The performances, the writing, and the action all make Soldado a fantastic sequel. Even if you've never seen Sicario before, Sicario: Day of the Soldado is a great film that can stand entirely on its own. I was skeptical about seeing Sicario sequels at first, but now I can't wait to see what future installments may look like.
Sicario: Day of the Soldado will be released in theaters on June 29, 2018.