First Reactions to 'Jurassic World: Fallen Kingdom' Praise a Darker Sequel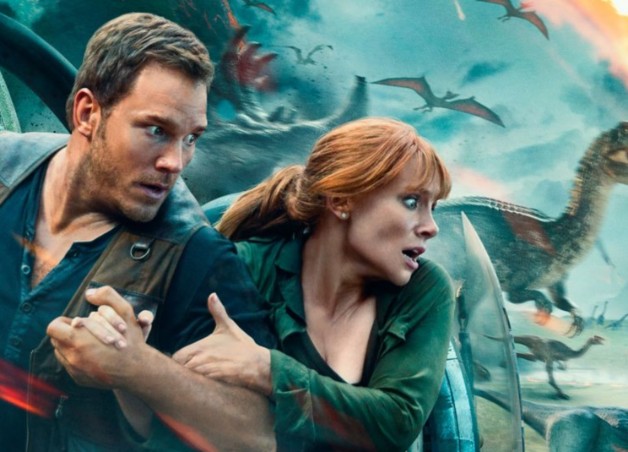 Jurassic World: Fallen Kingdom had its premiere Spain, where director J. A. Bayona hails from. Early reactions have ranged from mildly positive to glowing.
Since these reactions were in Spain, naturally, most responses are in Spanish. I'll start with the two English ones and offer rough translations below the rest.
I laughed. I cried. I found myself genuinely scared. All that even though it was in Spanish! In my opinion if that's not the definition of perfect visual storytelling, I don't know what is. #FallenKingdom CONGRATS @FilmBayona

— Jack Anthony Ewins (@Jack_Ewins) May 21, 2018
Hours later, after seeing @JurassicWorld #FallenKingdom #ElReinoCaído twice in one day, and still being under embargo even if I don't write about movies anymore (but I saw it twice in 12 hours, ahem ahem), I can say the 10 min standing ovation at the end was beyond well deserved. pic.twitter.com/FXmVvepOua

— Josep Parera Jorba (@josepopinion) May 22, 2018
.@FilmBayona se nos ha ido un rato a Hollywood para demostrar que sabe manejar grandes trenes y ha regresado a casa con la peli más jugona de su carrera: una montaña rusa trepidante, sin pausa, con momentos audaces de gran malabarista. Felicidades. #JurassicWorldFallenKingdom

— Rodrigo Cortés (@rodrigocor7es) May 22, 2018
"J. A. Bayona has gone to Hollywood for a while to show that he knows how to handle big projects and has returned home with the most juicy movie of his career: a fast-paced rollercoaster, without pause, with bold moments that juggle things well. Congratulations. "
#JurassicWorld2 es la continuación que la saga merece. No solo es interesante tal y como se plantea, sino que lo que está por venir va a ser BRUTAL. @FilmBayona, no defraudas.

— Adolfo Rodríguez (@AdolfoRH) May 21, 2018
"Jurassic World 2 is the continuation that the saga deserves. It is not only interesting as it progresses, but what's to come is going to be BRUTAL. Mr. Bayona, you don't disappoint."
FUCKING INCREÍBLE #JurassicWorld2 #ElReinoCaído. Gracias gracias gracias @FilmBayona por esta maravilla! INCREÍBLE! @Universal_Spain pic.twitter.com/F2F4k0XVTD

— Iñaki Oyarzun (@InakiO) May 21, 2018
"F*cking incredible! Thank you thank you thank you J. A. Bayona for this marvel! Amazing!"
#JurassicWorld2 cumple como blockbuster pero me decepciona como película de Bayona. Es un encargo muy bien resuelto, pero ofrece pocas sorpresas. Es la primera película de Jota que no me emociona. Plantea varios debates morales/sociales muy interesantes.

— Juan Manuel Toribio (@Juanma_Toribio) May 21, 2018
"Jurassic World 2 is like a blockbuster, but it disappoints me as a film from Bayona. It's a very well-thought-out movie, but it offers few surprises. It's the first Bayona movie that doesn't excite me. It raises several very interesting moral/social debates."
Estoy ALUCINANDO. #JurassicWorld #ElReinoCaído es un sinfín de emociones y el principio de una nueva era de la mano de @FilmBayona. #PremiereJW pic.twitter.com/JrfN6qYldK

— F Gascó – Pakozoico (@El_Pakozoico) May 21, 2018
"I'm hallucinating. Jurassic World is a myriad of emotions and the beginning of a new era by the hand of Mr. Bayona."
Vale, vista Jurassic World: El reino caído.
IMPRESIONANTE. Muy diferente a la primera, una fotografía increíble, la música me ha dejado flipado. Muy, muy, pero que muy recomendable. He estado toda la película con los ojos como platos. Id a verla. De verdad. pic.twitter.com/yrrI1vpw4j

— KAJAL (@kajalnapalm) May 21, 2018
"Okay, I watched Jurassic World: The Fallen Kingdom. Impressive. Very different from the first one, incredible cinematography, the music has left me blown away. Very, very, very recommendable. I've been all over the movie with my eyes as wide as dishes. Go see it. Really."
@FilmBayona lo tenía difícil pero ha conseguido superar mis expectativas con una película enorme. Ademas este #jurassicworld tiene para mi la mejor secuencia de inicio de la saga. Todos los aplausos han sido pocos

— Jose. (@JooseLS) May 21, 2018
"I had a few difficulties with the movie but it has managed to surpass my expectations. It's huge. Also, for me, this Jurassic World has the best sequence of start of the saga. All the applause has been few."
While the marketing campaign has been met with a mixed reception thus far, it's good to hear that the movie has turned out well. I'm almost a little bummed that Bayona won't be directing the next one (without having seen it), but if he's able to score another big Hollywood directing gig after this, it sounds like it will have been well-earned.
Jurassic World: Fallen Kingdom hits theaters on June 22, 2018.

Grant Davis is a freelance writer who has covered entertainment news for more than four years. His articles have frequently appeared in Star Wars News Net as well as as other entertainment-related websites. As someone who grew up on Star Wars and comic book movies, he's completely thrilled with the current era of genre entertainment.